Diamond Summer 2020 Showcase

July 22-23, 2020 Baltimore, Maryland
The Diamond Summer Lacrosse Showcase is an educational and showcase event for Male High School Lacrosse players.  It was held at the Timonium Fairgrounds in Timonium, MD on July 22nd and 23rd.  It featured 150+ of the top Male High School players in the Classes of 2021, 2022, 2023, and 2024. The Diamond Lacrosse Showcase is open to any and all entrants.  
All Division III college coaches are invited to attend.  Many coaches will be on staff for the event.  Last year over 65 college coaches from across the country attended to observe, coach and instruct players throughout the weekend.  College coaches will be on the sidelines throughout the weekend coaching players during their games.  They will be assisted by the top high school coaches from the Baltimore area.
Announcing the 2020 All-Diamond Team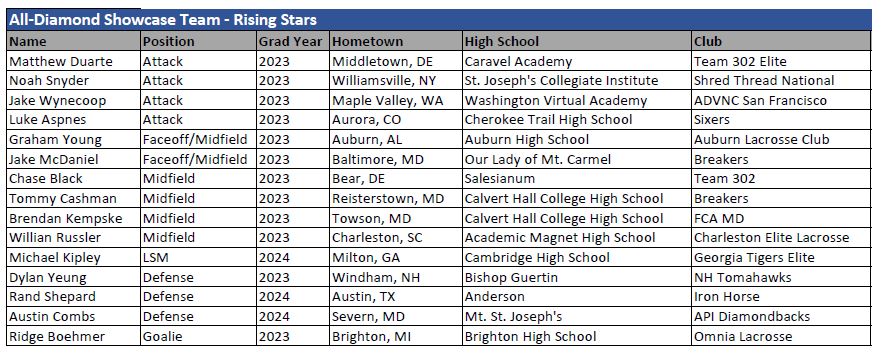 Price:
$375 per player (Grad years 2021, 2022, and 2023)
$300 per player (Grad year 2024)
COVID-19 Update: If any Diamond Showcase event is cancelled, postponed or rescheduled out of safety, regulatory or legal concerns related to the COVID-19 pandemic, we will provide site credits that can be applied to the Fall 2020 or Summer 2021 season. Site credits cannot be transferred outside of your immediate family or household. 
No refunds will be given once you have committed to the team. In the event of an injury (with appropriate documentation) a credit of 90% will be issued to be used at a future Diamond event. Any other voluntary withdraw is eligible for a 50% credit if more than 30 days from the event. If less then 30 days, no credit will be issued for voluntary withdraws.